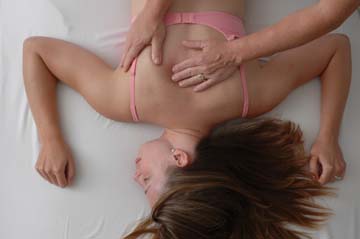 Some words from my clients:
"I stopped by the Rolf Institute to learn about Rolfing. The science and philosophy behind it is impressive. I was seeking a solution to lower back pain and neck and shoulder tension. I tried massage, which I believe in, but the knots in my neck and shoulders would not go away.
"I feel so fortunate to have found Suzanne Picard. In just one session, I felt relief. I am a runner, bicyclist, and hiker. I was worried I would not be able to continue my active lifestyle. Suzanne discovered and corrected, among other things, some alignment problems associated with my right hip that were contributing to the stress and pain in my lower back. After a few sessions, most of the pain in my lower back was gone; and after the full series of sessions, I was back doing all the things I enjoy. I went from hardly being able to bend over to feeling no tension at all. One day I bent over to pick up something from the floor and expected that familiar pain. It was gone. I actually noticed the absence of the pain.
"Suzanne has a special gift and a special touch in her Rolfing ability. I highly recommend Suzanne and Rolfing to anyone, and return to her whenever I have injuries or I am in need of rebalancing. Rolfing has given my life back to me and for that, I am forever grateful to Suzanne."
          – Penny Richardson
"I got amazing shifts in body dynamics and awareness from the work. All accomplished with Suzanne's deep yet gentle touch."
          – Stacey Dee
            Yoga Instructor
"I went from feeling like a hunched over mother of three to feeling tall and elegant!"
           – Judy Koons
             Life Coach
"Suzanne is very knowledgable, caring and capable. She has a rare sensitivity and ability to communicate with patients, understand their needs, and make them feel at ease. I only wish I had found her 20 years earlier."
          – Bob Armstrong
            Business Owner